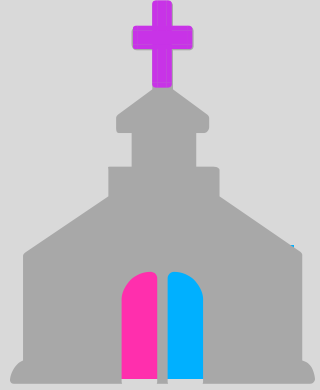 Growing up it was always  easy to remember the "no girls in boys rooms and no boys in girls rooms" rule at church camp because it was funny to say. "No purpling on the bus!" "No purpling in the rooms!" Adult leaders, rightly so, would make sure that girls (pink) and boys (blue) did not mix in atmospheres and places they shouldn't mix which would cause purple to happen.
With all that has been happening across the gendersphere, I am deeply saddened but not surprised at how women have been abused and are now gaining a voice to say, "Me too!"
I do believe that there is a tendency now for any space that has been co-ed, to now be more publicly fractured and for leadership to begin to make decisions to make spaces more pink and blue and less purple. It may come as a means to protect the pink, but in the end, it will hurt the purple.
One place that needs to remain purple in such a way that the world looks on and sees how purple should be is, the Church.
Christ made the Church filled with pink and blue. He also made the Church to be purple. Now here me say, I'm not talking about roles here…or titles…or pastors or directors or ministers…and who gets to do what.  I'm just talking about the presence of pink and blue.
Galatians 3:28 says, "There is neither Jew nor Gentile, neither slave nor free, nor is there male and female, for you are all one in Christ."
That sounds like some divine PURPLING to me.
I have served on a church staff now for 15 years. My church does really good with making some policy for areas that need policy. We have had the meeting where the ministers are brought together and we are reminded of what happens when pink and blue co-labor together without boundaries. We have specific policy boundaries and rules in place to help guard against the type of purpling that would get us fired.
You know…"no co-ed, two party only, off campus lunches/coffees/ carpooling or meet ups." (please note that this is my interpretation of the policy and not actually what is in our policy manual)
We talk about having guard rails in place to keep conversations free from talk that doesn't edify or diminishes each other's gender.
We talk about having guard rails in place to protect against attraction of a sexual nature that comes from unguarded intimate moments.
I'm not saying those rules and boundaries don't need to be in place. I am thankful for them. I am saying that churches have those rules, and then in turn typically do not have a strategy in place to then help intentionally connect women and men in Kingdom Building Initiatives.
It's not going to happen on it's own. We need to come to Jesus regularly as pink and blue and ask Him to help us purple.
I've been praying about this and thinking about this a lot. My heart has grieved as a woman who has experienced prior ministry moments in college where purple things were said to me that were not of Jesus. I would think that most women in ministry have had those moments as well. Some completely devastating and some make for a really bad year. In listening to how this is playing out on social media, I've continued to think…the church should look different. And I think the Church is just scared to respond.
And let me speak to the Blue people for a second…don't panic about #METOO. Don't try to spin it or co-opt language to somehow put yourself in it. That's not what needs to happen. Just listen or if you feel you need to respond, talk with a pink person to gain some understanding before you communicate about it.
So how do we respond as a church?
I've put together a draft infographic that comes out of moments in my time as a minister where I've seen Divine Purpling happen through asking some hard questions and praying. Maybe this is helpful for someone. I pray that for The Kingdom, we learn to partner and purple to the Glory of God.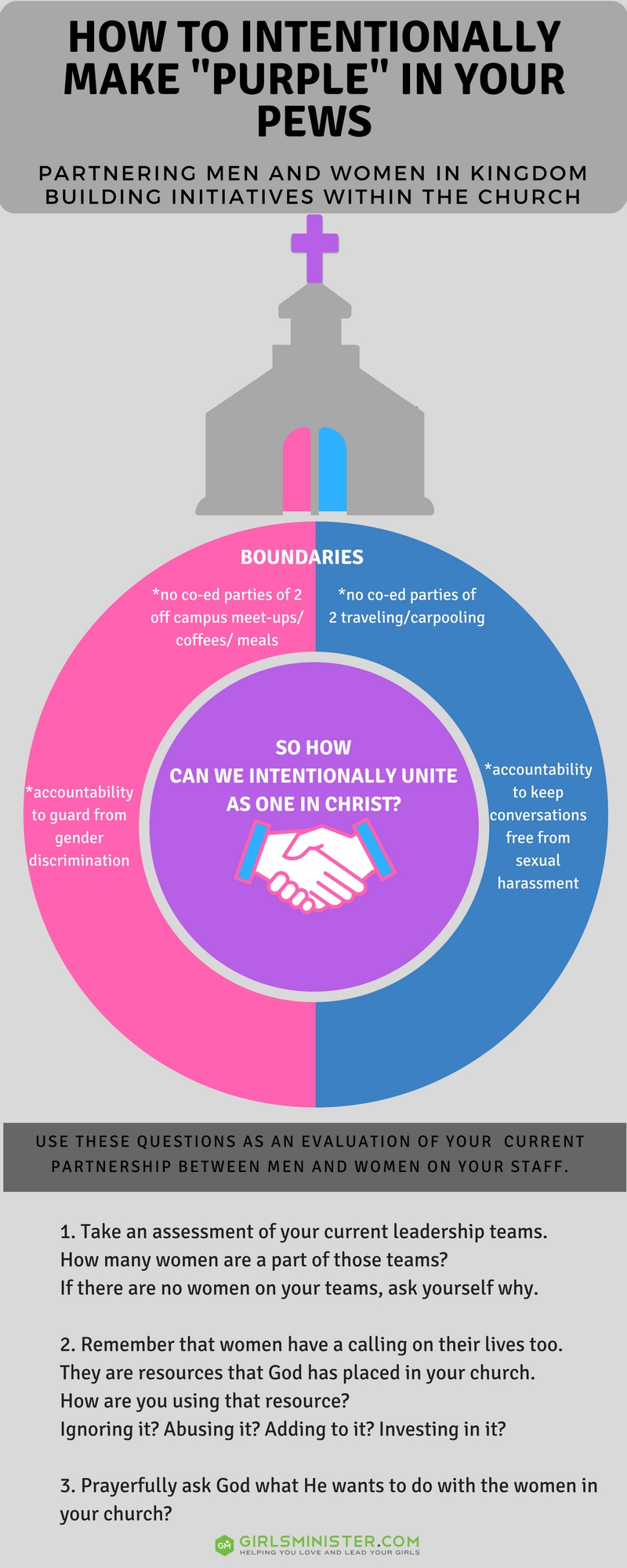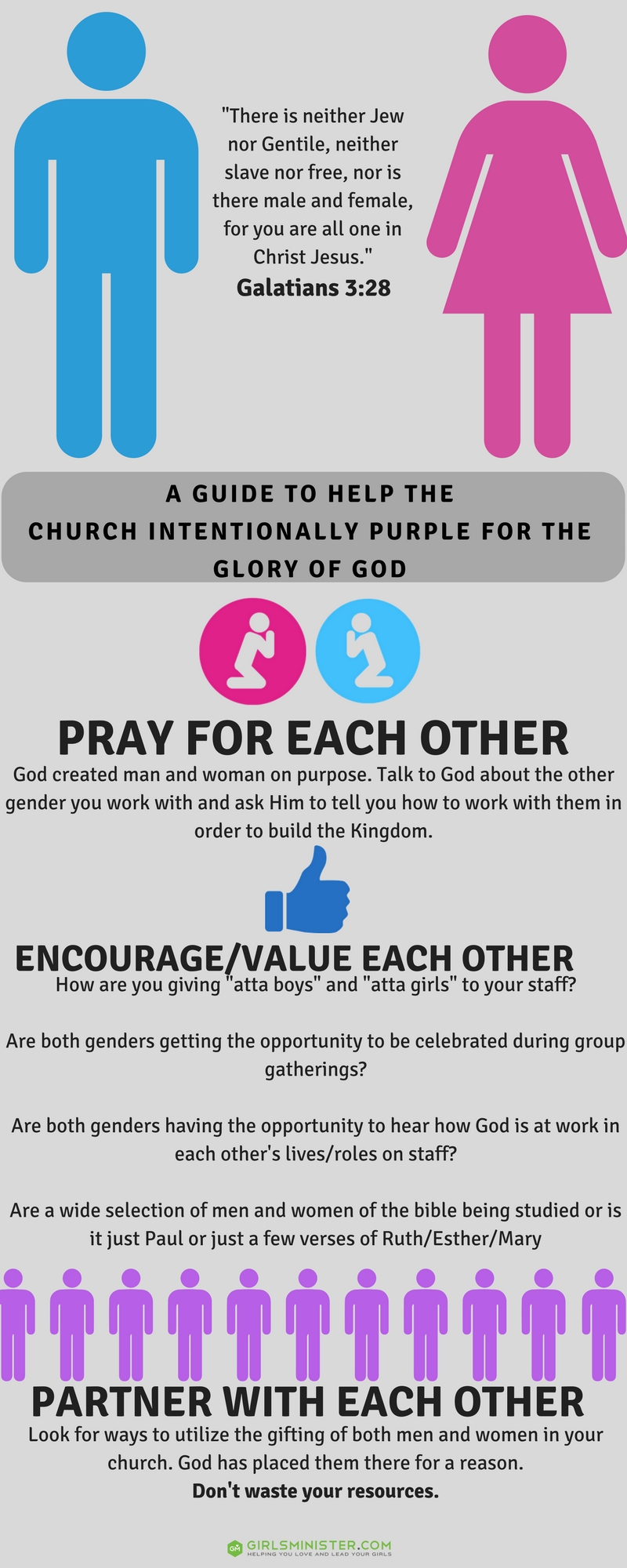 Tweet