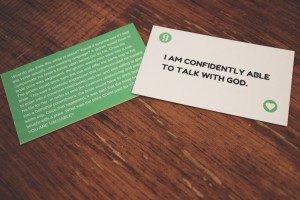 When we get off track in our relationship with Christ, it is possible that we are trying to find the answers to one of these three questions in something other than Christ:
IDENTITY: Who am I?
SIGNIFICANCE: Do I matter?
PURPOSE: Why am I here?
These I.D. packs were created to help mentor and disciple students by incorporating scripture verses that are partnered with an 'I AM" statement and an activity card to help apply the verse to our everyday living.
An entire pack includes 22 glossy business cards. The 22 cards include a "How to guide", and 10 complete "I AM" statements, 10 scripture verses, and 10 activities.
Identity Packs are sold in sets of 5 (22 cards per pack) for $20 (shipping is included in the price).
Tweet