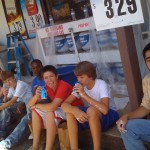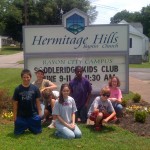 This week we had our middle school missions week in our hometown. It was intentional for us to have our middle school students awaken to how God is at work in their own city. We stayed overnight in a downtown church gymnasium and then would disperse teams of 7-12 students per group to serve across the city doing various ministry assignments ranging from helping set up apartments for refugees, working with homeless, painting, and working with children.
One of my favorite moments was watching a group of 8th grade girls bond and share stories from their site. I loved seeing them make connections to little moments and realizing that God was at work In that moment. For these girls, they were assigned an inner city daycare library that had no system in place to find books. One girl felt that they should group the books by topic. She told the other girls that she would find all the dinosaur books and put them together. At the end of the day they found out that a teacher needed all the dinosaur books because she was beginning a dinosaur series with her class. The students were ecstatic. Wow! How cool that God prompted them to do something that they had no idea would give them an opportunity to point that teacher to God. Matthew 5:16 says "Let your light so shine before men so that they may see your good deeds and give glory to your Father in Heaven."
Make sure you are providing opportunities for your girls to let their light shine. And as you do, place adults around them calling attention to those moments and helping the girls see How God is orchestrating moments they sometimes can't even see. Miss Chris is one of the leaders that poured her life into these girls this week. She served in the role of Eli this week but helping these girls to identify God's voice and respond to it. As a result, we have a group of 8th grade girls on fire to make Him known.
Your turn:
What are some mission activities you have done to help your girls to Let their light shine?
What has been the result?
Tweet