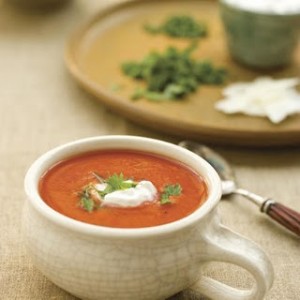 Tomorrow night, I will be opening up my home to 6-12th grade girls and women leaders for a new thing we are calling a SOUP n STUDY. CLICK HERE TO JOIN THE FACEBOOK GROUP BRENTWOOD BAPTIST GIRLS AND QUALITY WOMEN:)
The premise is simple: Come each week for a different soup, a different leader who will be teaching the bible study, and different collections of quality women and girls for a community group.
The reason is because after years of having successful small groups of girls, we're finding some needs arising for the girls to "mix n' match" with different women and girls of all ages. We've tried to do this at our catalyst events, and we've seen it happen best on mission trips, but there still has been a murmuring among our girls to "get to know other girls and leaders". I couldn't be more excited! It's a pretty easy thing to put together really. Every week just assign someone to be responsible for bringing the soup. This week it's me.
I'm doing my favorite comfort soup. Homemade Tomato Soup and grilled cheese triangles.
Then each week, put out an all call for quality women (background checked and spiritually healthy) in your church to come and hang out. I've made it clear that there's no obligation to come every week, but this would be a great opportunity for them to come and get to know girls and let the girls get to know them. Then secure someone who will be leading the bible study for the week. We'll see how this goes for September and October. I'll keep you posted about things we've learned. Perhaps this is something your girls ministry has been needing, or perhaps you've been doing something like this, but need to incorporate small groups. One thing I know…I'm always learning and I'm open to trying new things. We'll see how God uses our Soup n Study.
Here's the recipe I'm using for tomorrow. The picture above is what it looks like in the beginning. I got up early this morning to put it in the crockpot for a trial run. My kitchen smells AH-MAZING currently. Can't wait to try it out tonight.
Fresh Tomato Soup (Crockpot) Recipe submitted by: CDK Recipe Exchange Jenifer Milton jenifersrecipes
yields 4
8 medium tomatoes
1 medium onion — chopped
2 carrots — peeled and thinly sliced
1 garlic clove — crushed
1 tablespoon brown sugar
1 tablespoon chopped fresh basil
1 tablespoon chopped parsley
2 teaspoons Worcestershire sauce
1/2 teaspoon salt
1/8 teaspoon pepper
3 cups chicken broth or bouillon
Drop tomatoes in a pan of boiling water for 15 to 20 seconds; immediately rinse with cold water. Remove skins. Cut in half crosswise; squeeze out and discard seeds.
Combine in slow-cooker with onions, carrots, garlic, brown sugar, basil, parsley, worcestershire sauce, salt, pepper and broth (or bouillon). Cover and cook on LOW 5 to 6 hours or until vegetables are very soft. Puree in blender or food processor fitted with metal blade. Serve in individual bowls.
Tweet