I truly detest creating budgets! That was until I created this awesome template. This little template has made budgeting super easy on all the events I lead. I can quickly determine how our current registration impacts things we want to do. I can determine if a speaker charges the max amount, how that impacts the rest of my budget. I can quickly determine incidentals like unforeseen plane tickets charges or extra meals charges and see how that impacts the budget. I LOVE this template and so I am sharing it with you today. I hope it is helpful. You will need a google account to utilize this. See below the screenshot for instructions.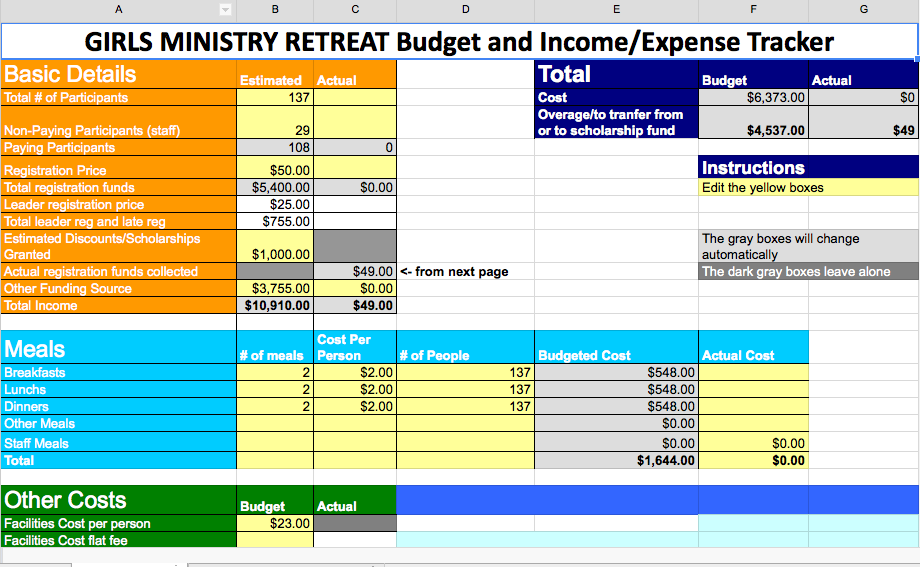 HERE IS HOW TO GET SET UP WITH THE BEST GIRLS MINISTRY BUDGET TEMPLATE EVER!:
Set up is easy, following the instructions below should take just a few minutes.
Log into your Google Account
Head to the tool here, and then to 'File' > 'Make a Copy'
Then you should be able to use and input your own information.
VOILA!
You're welcome!
Tweet