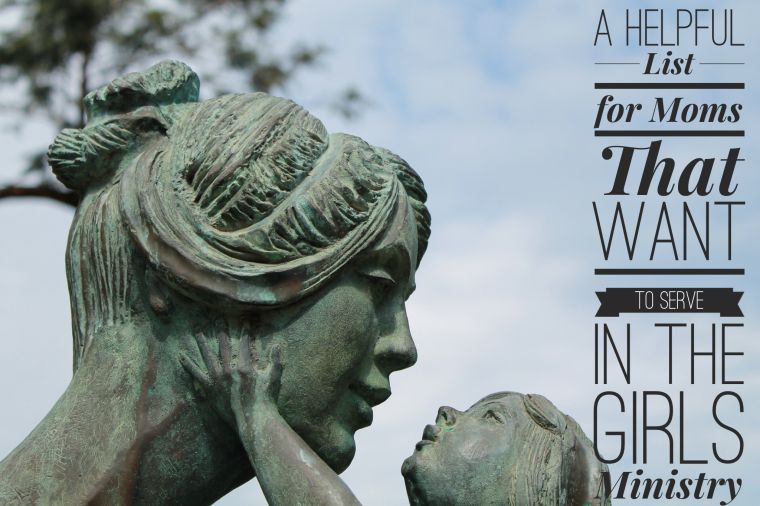 Yesterday, my almost three year old heard someone call me by my "real" name.  I didn't even realize what was happening in his little brain, but as I walked away with him, he looked at me with hesitation and said.."EH-ME-JOOO"?   I laughed at the way he sounded it out and then he said, "That you mommy? Amy-Jo is you mommy?"  It cracked me up and I quickly told him that he calls me mommy still but that yes, Amy-Jo is my name.  It was like he had discovered my secret identity or something.
It got me to thinking about the topic of moms involved in girls ministry. Sometimes we do have the tendency to hide behind the mask of mom and forget that while being a mom is a noble calling…it's not to be our identity, significance, and purpose.  So I have been personally and prayerfully considering this question:
How can the role of mom cause our ministry to girls to flourish or sometimes shrivel from the presence of "MOMS ON BOARD"?
As a relatively new mother, I have not taken this role lightly.  There has been an ongoing tension as I've learned to celebrate and deal with the stretching and tearing of my heart for my calling to minister to girls and my new calling to minister to my son.  I've invited trusted women who have gone before me, and those who are journeying with me in this role of mom and girls minister to help speak into some of my questions and concerns.  As I have taken on the title of mom personally, I have made some girls minister observations as well that I want to share with moms and girls ministers who are on this journey. Let's carefully unmask some of these answers.
1. WE need women of all ages and stages to come alongside students. MOMS included.
It's biblical!  Titus 2 gives great examples of how women passed along a living Godly example to the community of women they lived among.  They taught, not only with their words, but most importantly with their lives.  And in this day and age, it is becoming more and more difficult to get women of all ages and stages together to do things like this.  When our generations get separated, guess what doesn't get passed down?  The stories of how God is and has been at work specifically in the lives of the generations.  When we stop getting the chance to share and listen…we miss out on the encouragement, the example, and the teaching of the generations before and after us.
2. We need to recognize that the first girls minister should be the mom AND determine to intentionally partner with them.
Now, some moms have not recognized their calling and their ordained role as girls minister to their daughter and/or son, but it is their role as mom to lead out in conversations noted in Titus 2 first in their own home.  Young girls ministers tend to forget this and in all the fun crazy events they are having with the girls at the church, they don't know how to reach back to the mom in these girls lives.  I struggled with this personally, because it was natural for me to connect with the girls, but oftentimes I had to seek out the moms.  I regret early years when I didn't know quite how to bring moms into the conversation better.  Prayerfully look for ways to partner with moms in everything you do.
3. Moms don't allow deception or lies to distract you from the opportunity to speak HIS truth into the generations. 
We need you as small group leaders.  We need you as cabin chaperones.  We need you on the buses.  And we need you for more than "just being a mom."  Don't hide behind the title of mom.  BE YOU!  The role of Mom is a special blessing…but it should not define you.  When you step onto the bus as a leader for a student event—you are not THOSE students' mom. You may be mom to a few…but You are a sister in Christ. You are a Godly role model.  You are a Godly mentor.  Do not miss out on the opportunities to share testimony of how God works…and call out ways you see Him at work in the lives of the students and younger leaders you are surrounded by.
4. Don't hide behind the title of mom.
What does hiding behind the title of mom mean?  It means that you quickly label yourself as MOM when you do something for a student. It means you exchange opportunities to "hang out with them" and fall into a pattern of  "cleaning up after them" like you would for your own children.  It means you act for them in the role of mom and may jokingly chide them.  This may seem like a natural thing to do, but I have seen barriers come up between students and these self labeled women. Now there are amazing women who just naturally serve. This is not what I am talking about.  It's when you feel too awkward sitting down with students that you simply take on the mask of mom and they only see you as that from that moment on.
5. Give yourself permission to participate at an event as yourself.
If you are a mom and your child is participating in an event that you are also participating in as a student ministry leader, please do not try to be their small group leader or cabin leader.  There are some special circumstances that negate this rule, but for the most part it is healthier to keep this rule intact. Use this opportunity to allow God to use you to pour into the lives of other students other than your child.  AND give your child space to flourish under the leadership and care of other adults.
Enjoy watching God work in and through your student from afar. Take notice of how they respond and react to friends and adults, but don't hover. Don't abandon other students that have been placed under your physical, spiritual, and emotional care to only focus on your own child. If you are unable to focus on the spiritual care of other students when your child is attending the same event, then this may be an indicator that you are finding your identity in the role of mom.
6. Your children need you AND they need to see that you find your identity in Christ…not in them.
I am so thankful to personally know mothers who have intentionally brought other women alongside of them to nurture their children as they are raising them.  Moms in our ministry have done a great job avoiding the territory trap as they were invited other women of all ages on this journey. They never appeared threatened by the presence of these special mentors but rather grateful that someone else was there to echo the biblical truths she was imparting to her child..maybe in a different way or sometimes the same way.
7. Invite other women to pray for you as you remove the mom mask to minister in a Titus 2 environment.
I need Godly women leaders in the lives of our girls.  I need them in the life of me.  I am watching women of all ages and stages and learning from them as well.  I am watching how they handle children and how they handle aging.  I am thankful for the women who have allowed themselves to be labeled FRIEND and not solely a MOM.  I am thankful to know the true identities of my fellow mothers, lifegroup leaders, sisters-in-christ.
Today I pray that all of our women—me included…will allow their hearts to be rooted in Him so that the roles we are given as moms, sisters, friends, life group leaders…will get their identity….significance…and purpose from Him and not from the name itself.
Tweet